"Move better, feel better, and perform better"
Strength and Conditioning (S&C) training is beneficial for everyone from the 'non-sporty' or athletic to the 'weekend warrior' up to 'high level athletes. Why not talk to one of our therapists about how a strength and conditioning programme can enhance your quality of life? Strength training been shown to increase muscle strength, general fitness and have positive influences on blood pressure and cholesterol.
Our S&C coaches work in partnership with our Chartered Physiotherapists, to design programmes which are tailored to your individual needs.
Whether your goals are to improve your general health and well-being, or to perform better in your chosen sport, regular, structured resistance training can help you achieve your targets.
S&C for all:
Benefits include increased muscle mass and bone density, improved balance and reduced risk of chronic disease (heart and lung conditions).
S&C for Athletes:
Our S&C programmes focus on the development of strength, speed, power, flexibility and plyometric capabilities. Our programmes are created to optimise athletic performance by addressing areas for improvement and enhancing areas of strength.
We highly recommend you book in for Athletic Performance Testing which will allow us to accurately document your starting point in order to achieve your desired goals.
S&C for injury rehabilitation and prevention: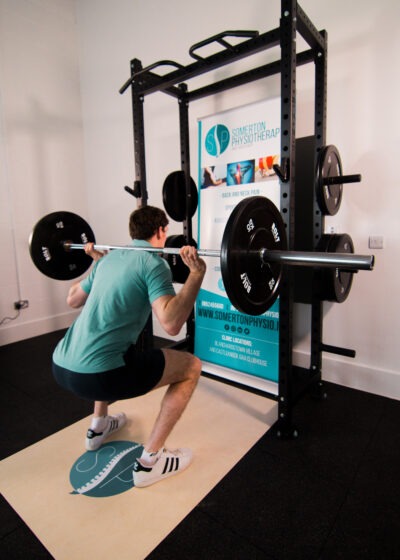 'You Can't Go Wrong Getting Strong'.
Strength and conditioning training helps to improve the strength of the musculoskeletal system. Research has shown that increased strength helps to reduce the risk of suffering future injuries. If you have a long history of low back pain, recurring muscle strains or persistent aches and pains in your joints (shoulders, hips, knees) S&C training will be a suitable form of exercise for you.
Alan Kinsella is our qualified Strength and Conditioning Coach who has worked in professional and semi-professional sport since 2001. Alan played in the League of Ireland for 16 years, is a UEFA 'A' qualified coach along with extensive coaching experience at local community and elite level.
If you are interested in becoming a stronger, fitter and more athletic variation of yourself, why not get in touch? To book a S&C session at Somerton Physiotherapy Castleknock, you can contact the clinic on (01) 9069566 or book online.