Tallaght Physiotherapy Clinic, Dublin 24
Your trusted partner in comprehensive physiotherapy care.​
Tallaght Physiotherapy Clinic, Dublin 24
Your trusted partner in comprehensive physiotherapy care.​
At Somerton Physio Tallaght, our dedicated team of experienced physiotherapists is committed to helping you regain your health and mobility, ensuring that you can lead a pain-free and active lifestyle.
We offer a wide range of expert physiotherapy treatments to address a variety of conditions while providing the highest level of care and expertise.
Treatments & Services We Offer at Our Tallaght Physiotherapy Clinic:
Neck and Back Pain
Muscle and Joint Pain
Orthotics
Sports Injuries
Sports Massage
Dry Needling
Pilates Classes and More…
Neck and Back Pain: Whether you are suffering from chronic back pain or a recent neck injury, we can help alleviate your discomfort and improve your quality of life.
Muscle and Joint Pain:

We offer personalized physiotherapy to alleviate muscle and joint pain, tailored to your specific needs.
Sports Injuries:

Our sports injury rehabilitation programs are designed to get you back to your sporting activity as quickly and safely as possible.
Chronic Pain:

We offer comprehensive treatment plans to effectively manage chronic pain conditions.
Running Performance Lab :

We specialise in Gait Analysis and Running performance solutions for competitive and recreational runners.
Sports Massage :

Sports massage can help with muscle relaxation, injury prevention, and recovery.
Osteoporosis :

Our experienced physiotherapists can help manage and improve your bone health.
Osteoarthritis:

Our tailored treatment plans can help manage the discomfort associated with osteoarthritis.
Dry Needling :

Our therapists use dry needling techniques to effectively relieve muscle pain and tension.
Work-Related Injuries:

We offer rehabilitation services to help you recover and return to work safely.
Pilates Classes :

Join our Pilates classes to improve your strength, flexibility, and posture.
Road Traffic Accidents:

We provide specialized care and rehabilitation for injuries resulting from road accidents.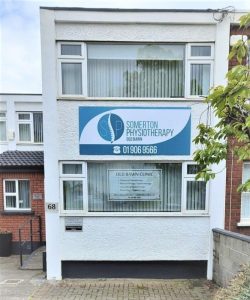 Tallaght (Old Bawn), Dublin 24
When travelling from M50, continue on N81, drive to Old Bawn Road/R113, at the roundabout take the 3rd exit onto Tallaght Road/N81, at the next roundabout take the 1st exit on to N81, turn on to Old Bawn Road and the clinic will be on your left.
Address:
68 Old Bawn Road, Tallaght, Dublin 24
At Somerton Physio Clinic Tallaght, we are dedicated to your well-being. We are here to support you on your journey to recovery and enhanced physical health.
Book your appointment online today and take the first step towards a healthier, pain-free life with our expert physiotherapy team in Tallaght.
To get in touch email us at [email protected] or phone us at (01) 9069566. Follow us on Instagram for physiotherapy and clinic Updates.