At Somerton Physiotherapy Athletic Performance Testing we want to make it easier for you to maximize your performance and reduce your chance of injury when playing your sport.
With this in mind – we are delighted to introduce our ATHLETIC PERFORMANCE PACKAGE Service. This package consists of 5 one to one Physiotherapy led Sessions spread over a 16 week period. The first session will involve a series of tests to assess the key physical markers of an athlete which are strength, power and speed. Sessions 2-4 will involve one to one Physiotherapy led strength and conditioning targeting the areas for improvement as highlighted during the initial testing phase. In the final session we will retest the key markers and compare your results to show a marked improvement in Athletic performance for your chosen sport. The cost for this package is €299 (5 Sessions)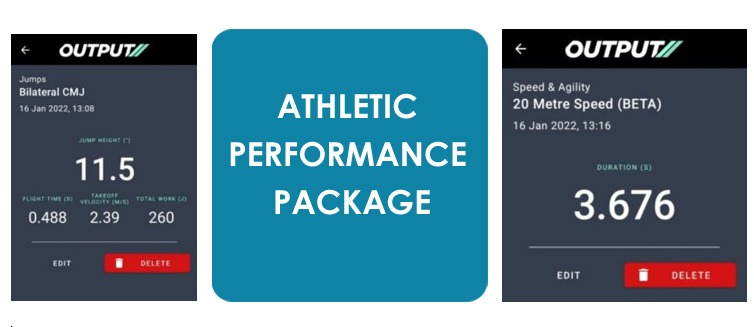 Using world leading technology from Output Sports we can provide you with accurate data using accelerometer (similar to force plates) and motion capture technology (similar to speed gates). This allows you to compare your Athletic Performance results against your peers and top athletes in your sport whether you play GAA, Rugby, Soccer, track and field, swimming or cycling.
The Purpose / Benefits of Athletic Performance Package:
Give the athlete feedback on their overall readiness to perform at the highest level
Highlight specific areas where your athletic performance can be improved.
Help reduce incidences of hamstring, quads and calf muscle injuries
Personalised S+C sessions and plans to target your performance weaknesses to help improve you as an athlete
What will your physiotherapist test as part of the Athletic Performance Package:
Musculoskeletal assessment with a detailed injury history
Strength, Power (plyometric) and Speed assessment
Strength Testing:
Hamstring
Quadriceps
Calf
Gluteal
Power Testing:
Reactive strength index (reactive jumping ability)
Counter movement jump height (to assess power production upwards)
Broad Jump (to assess power production forwards)
Speed and Agility Testing:
Sprint speed (10 and 20 metre sprint times)
Agility testing (Series of timed sprinting while twisting and turning)
Frequently Asked Questions
How will this help me?
Having this information will allow your strength and conditioning coach and physiotherapist to program a training plan for your specific needs. Without this information, is it just guessing.
Who's carrying out the testing?

Our experienced sports and musculoskeletal physiotherapists.
Where will testing take place?

Testing will take place at our Physio clinic in the Castleknock GAA clubhouse at Somerton.
What to bring?
Please bring runners suitable for jumping and boots suitable for pitch running.
Who is it suitable for?

Athletic Performance Package is suitable for all Male and Female athletes aged 13 years and older who wish to progress on to the next level of their sport.
Interested in booking?

You can book using three easy methods to best suit you:
To book online for an Athletic Performance package click on the link below, select Castleknock GAA clubhouse and select the Athletic Performance Package
Contact Adam Kinsella MISCP directly on

[email protected]

Call the clinic on (01) 9069566